Just as it is sad when I finish a favorite book or TV show, it is also sad when I finish a podcast. Let me tell you I binged the Urban Legends with the Ghost Brothers podcast over the last few weeks. From start to finish, all seasons, all episodes and I loved every single one. 
The Ghost Brothers podcast explores myths and legends with a paranormal twist. The show features Atlanta's premier paranormal investigators, Dalen Spratt, Juwan Mass, and Marcus Harvey, who investigate the craziest myths and legends with the help of comedians, witches, celebrities, and friends.
Who are the Ghost Brothers?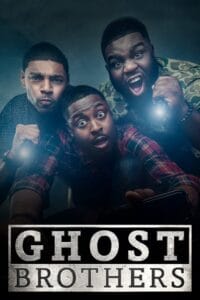 Dalen Spratt and Juwan Mass, the two founding members of the Ghost Brothers, were fashion designers with their own label called Loren Spratt. They had been investigating haunted houses, hotels, and cemeteries together since 2011 as a passionate hobby. Marcus Harvey, a comedian and "Barber to the Stars," met Dalen in 2009 and joined the team later as an "experienced" ghost hunter. The three of them shared a fascination with the paranormal, which led them to create The Ghost Brothers to seek out answers to the paranormal. 
The Ghost Brothers are known for their humor and unique approach to paranormal investigations, making them a fan favorite. I always appreciate how funny and authentic they are when I see them on TV or hear them over the airwaves. They make me laugh and I can only imagine they make the spirits laugh, too. This is probably why their investigations, even in the darkest of locations, never become like evil, demon-possession-type stuff, like they just don't bring that out in the ghosts.
What's the podcast about?
The podcast covers a wide range of urban legends, including Bloody Mary, the Chupacabra, and Candyman. The Ghost Brothers use their expertise and knowledge to explore the origins of these legends and investigate whether there is any truth to them. They bring on guests who help shed light on the origin of the urban legends which I found to be very interesting. They also share their own personal experiences with the paranormal, making the show both informative and entertaining.
Bloody Mary: This is a classic urban legend that has been around for decades. The Ghost Brothers have investigated the origins of this legend and whether there is any truth to it. During this podcast they asked, do you believe in bloody mary? The answer was, well, I wouldn't go trying it in front of a mirror. Sooo….is it a belief if it is something you wouldn't want to try? Does that mean that you think bloody mary does indeed exist?
Cropsey: Cropsey is an urban legend that originated in Staten Island, New York. It involves a supposed escaped mental patient who lives in the woods.
Chupacabra: The Chupacabra is a legendary creature that is said to inhabit parts of the Americas. The chupacabra literally 'goat-sucker'; from Spanish: chupa, 'sucks', and cabras, 'goats') is a legendary creature in the folklore of parts of the Americas. Dalen shared his run-in as a child with what he believed to be an odd creature.
Listen to a snippet of the Cropsey episode here.
Bring back Ghost Brothers
As a fan of the Ghost Brothers, it's understandable to wish they were back on TV. However, their podcast is a great way to stay connected with the team and continue to enjoy their unique approach to paranormal investigations. Additionally, fans of the podcast can check out Ghost Brothers: Lights Out and Ghost Brothers: Haunted Houseguest which are streaming exclusively on discovery+. I very much wish and hope that they get picked back up for a new season!
Please check out their shows, find them on YouTube and definitely listen to the Ghost Brothers podcast on your favorite podcast platform!
Please follow and like us: