Following the recent release of his celebrated new album Last Man Dancing, an explosive performance at Glastonbury and recent opening tour supporting Duran Duran. Jake Shears' just appeared on television on 'Live With Kelly & Mark' for their Fourth of July special performing "Too Much Music" and playing a game.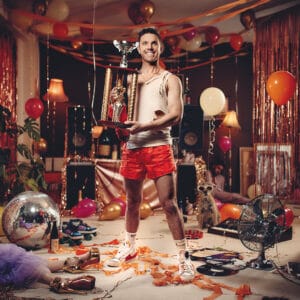 The self-confessed Last Man Dancing, Jake Shears' new album in many ways feels like the record he was born to make. Full of incandescent nods to dance music pioneers, a Sylvester falsetto here, a Patrick Cowley cowbell there and a Berghain pulse, Shears' lifelong love affair with club culture breaks new ground while also sounding like a spiritual homecoming. This is nowhere more apparent than on "Voices", which witnesses Jake's much-anticipated creative reunion with Kylie Minogue over an Italo, dream-like siren "calling you to action…calling you to love."
Last Man Dancing has been described as "disco with flecks of pop." The album features a hit single called "Too Much" and includes 10 tracks. According to an interview with The Queer Review, Shears said that the album "goes places I've never been before" and that he "wanted to make a record that was really fun and celebratory." The album has received positive reviews, with Instinct Magazine calling it a "stunning sophomore solo album." Last Man Dancing is available on CD and streaming platforms.
JAKE SHEARS LIVE DATES:
7/8/2023 || Bristol || Pride
7/23/2023 || Nottingham || Splendour Festival
8/25/2023 || Lincolnshire || Lost Village Festival (DJ Set)
8/27/2023 || Manchester || Pride
Please follow and like us: