Hailey Faith Whitters is an American country musician who looks like she stepped of the fashion app Cider.
Last week, the Iowa-born, Nashville-based country star and ACM "New Female Artist of the Year" Hailey Whitters released a new song "Tie'r Down" from her forthcoming EP I'm In Love out on July 28. The new song follows the release of the EP's title track "I'm In Love" which was named one of the best songs of the week last week by Billboard and Stereogum.

About the song, Whitters explains, "It's no secret I grew up a kid on '90s country radio, and so when I went in one day to write with Rodney Clawson and Chris LaCorte, I was reminiscing about Trisha Yearwood's song 'XXX's & OOO's.' I thought a lot about how that song made me feel – strong and like I could do anything I set my mind to despite whatever barriers anyone or anything might put in my way. I wanted to write a song that made young girls growing up in today's world feel that same feeling."
"This song is written in the third person, but there's a lot of me influencing the character in this song. There's dirt under my nails most of the time, and I'm much more ponytail in a ball cap than designer clothes. One of my favorite lines is 'She's got a baby doll face, but she's steel toe strong' because it says I may look delicate but don't underestimate my strength. That line always gives me guts whenever I need to go out there and show the world what I'm made of."
Hailey has written songs for artists like Little Big Town and Alan Jackson and has toured with Little Big Town and Maren Morris. Whitters released her debut full-length album, "Black Sheep," in 2015.
In 2019, she released an extended play titled "The Days," which served as the first half of her album "The Dream." The subsequent deluxe album, "Living the Dream," featured collaborations with Brent Cobb, Jordan Davis, Hillary Lindsey, Lori McKenna, Little Big Town, and Trisha Yearwood.
In 2021, she was named the inaugural Opry NextStage Artist of the Year and scored her first CMT Music Award. Whitters released her highly anticipated second album, "Raised," on March 18, 2022, via Pigasus Records/Songs & Daughters/Big Loud Records.
In May 2023, she won the ACM Award for New Female Artist of the Year.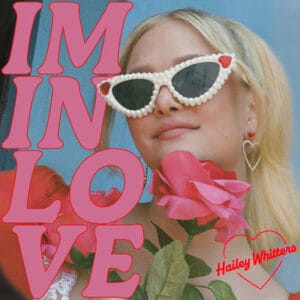 I'm In Love EP tracklist:
1) Tie'r Down (Hailey Whitters, Rodney Clawson, Chris La Corte)
2) Countryside Chick (Hailey Whitters, Matt Roy, Brett Tyler)
3) I'm In Love (Cameron Bedell, Nicolle Galyon, Lee Thomas Miller)
4) Mellencamp (Nicolle Galyon, Mark Holman, Jordan Minton)
5) Bad Love (Hailey Whitters, Hillary Lindsey, Jimmy Robbins)
6) Everything She Ain't (Hailey Whitters, Bryan Simpson, Ryan Tyndell)
Tour Dates:
7/21: Twin Lakes, WI – Country Thunder Wisconsin
7/22: Eau Claire, WI – Country Jam
8/6: Camrose, Canada – Big Valley Jamboree
8/11: Doswell, VA – Meadow Event Park *
8/12: Atlantic City, NJ – TidalWave 
Music
 Festival
8/18: Calgary, Canada – Country Thunder Alberta
8/26: Moscow, ID – Summer Country Showdown
9/8: Ridgefield, WA – RV Inn Style Resorts Amphitheater %
9/9: Quincy, WA – Gorge Amphitheatre %
9/10: Quincy, WA – Gorge Amphitheatre %
9/15: Albuquerque, NM – Isleta Amphitheater %
9/17: Louisville, KY – Bourbon and Beyond
9/23: Franklin, TN – Pilgrimage 
Music
 & Cultural Festival
9/28: Dallas, TX – Dos Equis Pavilion ^
9/29: Fort Worth, TX – Dickies Arena ^
9/30: Tulsa, OK – BOK Center ^
10/6: Savannah, GA – Enmarket Arena ^
10/7: Charlotte, NC – PNC 
Music
 Pavilion ^
10/12: Sioux Falls, SD – Denny Sanford PREMIER Center ^
10/13: Green Bay, WI – Resch Center ^
10/14: St. Paul, MN – Xcel Energy Center ^
10/21: Kissimmee, FL – Country Thunder Florida ^
10/26: Raleigh, NC – Coastal Credit Union 
Music
 Park ^
10/27: Charlottesville, VA – John Paul Jones Arena ^
10/28: Charleston, SC – Credit One Stadium ^
11/3 – Scottsdale, AZ – Dreamy Draw Festival
11/11-12: Miami, FL – Country Bay 
Music
 Festival
11/18 – Sioux City, IA – Hard Rock Hotel & Casino
* w/ Dan + Shay
% – with Eric Church
^ – with Luke Bryan
Please follow and like us: